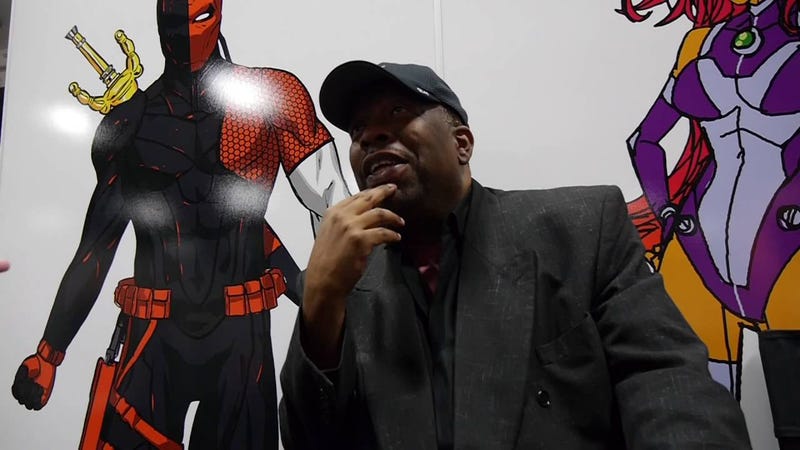 Somewhere during a four-decade career in editing and scripting comics, Christopher Priest found himself categorized as a "black writer," despite having written Batman, Spider-Man, and other icons. He drifted away from the industry out of frustration, leaving fans of his incisive approach all the poorer. He's back now, though, writing one of the complex villains in superhero comics.
Years ago, an editor from DC Comics got on the phone with Priest, offering the chance to work on Firestorm. A chance to escape the pigeonhole, at long last? Nope. This version of the nuclear-powered hero was a young black man. Priest told me that story the first time I interviewed him, back in 2013 for his return to Quantum & Woody, the beloved buddy-comedy superhero book he wrote for Valiant Comics in the 1990s. Comic-Con 2016 was a sort of homecoming for the pioneering creator, who's been running as a graphics design business as his comics output dwindled to almost nothing in recent years.
It was my first in-person meeting with the 55-year-old writer, who's weathered a ridiculous number of ups and down in comics, but will be helming a new Deathstroke title which debuts with the Deathstroke: Rebirth one-shot next week. I've written before about how the veteran wordsmith—who started as a 16-year-old intern at Marvel in 1978 and was promoted to editor six years later— is one of my inspirations. Given his work, I expected him to be funny but was struck by how humble and boisterous he was. In the interview that follows, Priest talks about his approach to master assassin Slade Wilson, his role in the return of Milestone Media and the impetus for a racially charged issue of the classic 1980s Power Man and Iron Fist run.
---
io9: How's it feel to be back at Comic-Con and seeing how huge it's gotten?

Christopher Priest: This is really a little anxiety provoking for me because I've been living in a quiet town in Colorado, kind of minding my business.
I go way back with your work, back to Power Man and Iron Fist, your Black Panther run and The Crew. The minute it was announced that you were writing Deathstroke, I was super-excited, like, "He's not writing the black guy!"

Priest: [laughs] Nobody seems to understand that. I've had to explain that like eight times today.
They said that in [DC Comics' press breakfast during Comic-Con]. The idea that this is what you do or only what you can do, it's annoying to me because it runs counter to your actual work history in the medium. You didn't start on black guys.
Priest: [laughs]
You started with Spider-Man. You've written Captain America. You've written Batman… but, let's actually talk about Deathstroke before I talk about meta stuff. I've known him ever since his introduction in Teen Titans. You're taking him back to his roots as a villain.
Priest: Yes. Thank you for saying that. I've had to explain it to my editor. I went, "He's a villain. He does nasty things."